March 23, 2016
By Katherine Mueller, IFRC, Lisa Pattinson, IFRC, Louise Juul Hansen, PS Centre
One year ago, the IFRC launched the campaign #wordsagainstebola. One of the elements of the campaign was a banner for Facebook with the words "Stop Ebola with hope" and the picture of a smiling young girl with a strong, but soft gaze.
The girl in the picture is named Kadiatu Bangura, and the picture was taken the day she was released from the Red Cross Ebola treatment centre in Kenema Sierra Leone. She was 11 years old, alone, separated from her mother, father, and siblings who were all taken to different facilities after falling ill with the potentially deadly disease. Today, Kadiatu is 13 years old and healthy.
When Kadiatu arrieved at the Kenema treatment centre, she was their second patient – their youngest patient – and severely ill with Ebola. Disoriented and confused, Kadiatu thought she was meeting the devil when she first saw staff in their protective gear approach her. "They gave me food but I couldn't eat," says Kadiatu, quietly. "I was feeling bad in my stomach. My neck was aching, and I was also thinking about my mother."
Over the course of the following two weeks, Kadiatu's strength began to return. "I started feeling better. I was playing. They brought me balloons and paper and crayons, and some peanuts because I really like them," says Kadiatu.
She formed friendships with other patients, falling under the maternal wing of Haja Kargbo, a mother who lost two of her own children to Ebola before falling victim to the indiscriminate disease herself.
After two blood tests came back negative, Kadiatu was given the good news. She could go home. She had a final shower to ensure any potential contaminants remained on-site. She said goodbye to Haja, received her 'survivor' certificate, and then, "the staff brought me music and said we should dance. So we danced to Michael Jackson," says Kadiatu.
It was a happy moment, but also one that still haunts her. During a recent visit to her home in Waterloo, Kadiatu willingly obliges a suggestion to dance. However, just seconds into the music and tears are again flowing down the now-teenager's cheeks as she is transported back to the treatment centre and her time there.
For now, she is focusing on improving her grades. Her favourite subject is math, but she receives the best mark in religious studies. With a goal of making her father proud, Kadiatu says, "I want to help people. I want to be a lawyer."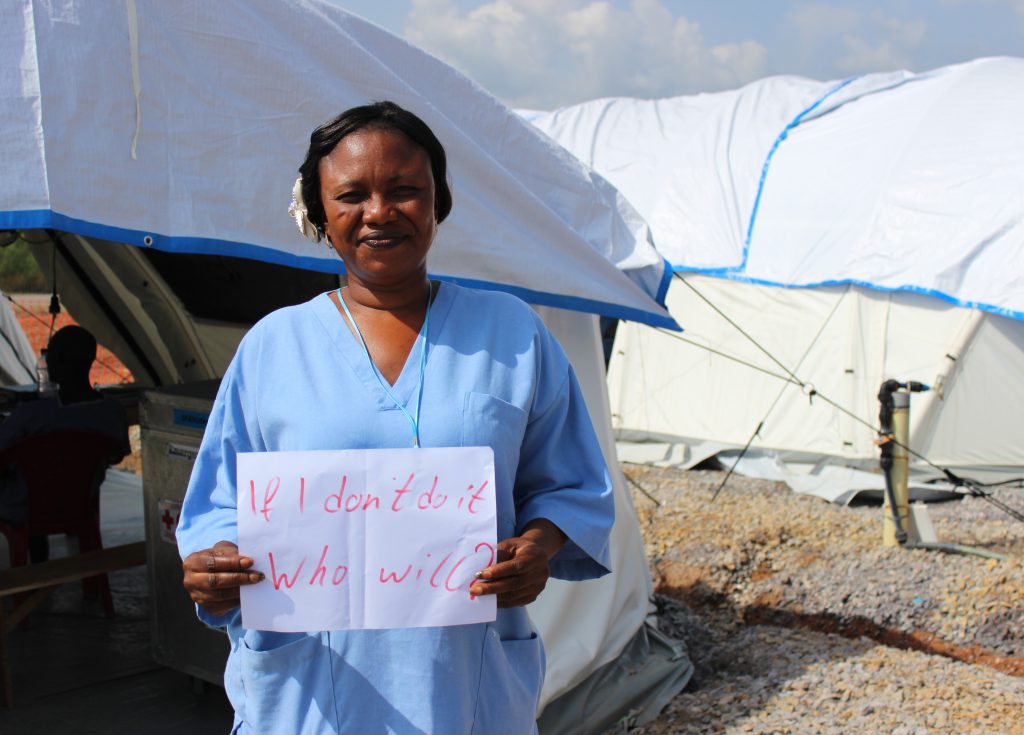 The shower that Kadiatu received before leaving the treatment centre is a symbolic as well as practical measure. "My nickname is Happy Shower," smiles Jestina Boyle, a Red Cross psychosocial assistance volunteer at the Kenema Ebola treatment centre. With Jestina's encouragement and counselling skills, patients experienced the so-called 'happy shower' which is what survivors go through before crossing the threshold of the restricted high-risk area back to the normal world. The happy shower is an affirmation that they have survived this vicious virus and are washing away the disease.
"Often when patients are admitted to the centre with a positive diagnosis, many want to give up. But I don't let them. I tell them to eat, to drink, to walk around, to do something. Just don't give up," says Jestina. Many of the patients had already experienced terrible loss to the disease. In some cases, their immediate family had succumbed to the disease and they were the only one remaining. Other times they had been infected while caring for someone and had then unwittingly contaminated their spouse and children. Needless to say, feelings of guilt can be enormous and many patients slide into depression.
Jestina was a lifeline for many in these dark times. "I give them hope. So many thought they were dead and then, by changing their thinking, it helps them survive. We pray together, or they see me praying for them and they realize that it is not their time. God has brought them here to survive."
Keeping people motivated can carry its own toll as it is a very emotionally charged job. Jestina is a creative person and links her passion for caring with singing and dance which instantly uplifts her and those around her. "I sing to keep myself happy, it's what I have to do when I see so many people dying. I see that my work has helped people, more are walking out of this centre Ebola-free.
"Treatment is only part of survival. It makes the body strong but with a weak mind, the person won't survive. Now, when I make the mind strong, the body becomes stronger and people survive."