Interim Guidance: Supportive Supervision for volunteers providing Mental Health and Psychosocial Support during COVID-19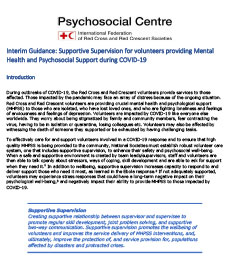 Description

During outbreaks of COVID-19, the Red Cross and Red Crescent volunteers provide services to those affected. Those impacted by the pandemic may face an array of distress because of the ongoing situation. Red Cross and Red Crescent volunteers are providing crucial mental health and psychological support (MHPSS) to those who are isolated, who have lost loved ones, and who are fighting loneliness and feelings of anxiousness and feelings of depression. Volunteers are impacted by COVID-19 like everyone else worldwide. They worry about being stigmatized by family and community members, fear contracting the virus, having to be in isolation or quarantine, losing colleagues etc. Volunteers may also be affected by witnessing the death of someone they supported or be exhausted by having challenging tasks.
Translations
This resource is not available in other languages.