September 13, 2016
By Anita Dullard, IFRC
Azad and Nashmia fled northern Iraq the day that 10 of their family members were kidnapped. Their only thought was to get to somewhere safe, somewhere that could protect them from the violence and uncertainty they faced every day in their village.
"Daesh took my sisters and brothers. So I left with my wife. We walked through Turkey to get to Greece because we didn't have any money to pay smugglers. It took 11 days. Since we left, we have not heard anything from the rest of our family. We hope they are hiding in the mountains," says Azad.
Azad and Nashmia are among thousands of people fleeing the Iraqi Kurdistan since the most recent conflict to affect Iraq began in 2014. Kurdish Iraqis, Azad and Nashmia are among one of the minority groups now living in Greece awaiting the outcome of their registration for asylum.
"The most important thing was to get out of Iraq. We had a dream to get to Germany. Even though this is not Germany we feel security here, at least there is peace and no fear," says Azad.
After landing on Samos, a Greek island just one kilometre from Turkey, the couple travelled to mainland Greece and were placed at Scaramagas migrant accommodation centre. Since settling at the camp, Nashmia now seven months pregnant receives anti-natal care from the Red Cross health clinic and and Azad has taken up the role of art instructor as part of Red Cross's psychosocial support program.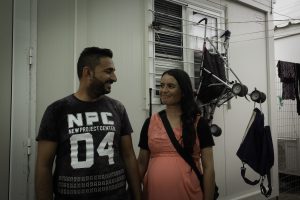 Azad explains that even though he feels immense relief at knowing his growing family are safe, waiting each day without anything to do and no idea what the future holds becomes a burden. "Life is ok here at the camp. But leading the sculpture workshops are important for me because it feeds my spirit. We need food and shelter. But also I need something to keep me feeling like I have some purpose."
Helen Pardo Riikonen, Red Cross' psychosocial support delegate at the camp says men are often overlooked when it comes to psychological and social support in the camps. And that providing opportunities for men like Azad to get involved with the community is critical to restore their confidence and sense of worth.
"Very often men here at Scaramagas are from cultures where they are seen as the head of the family, and they feel a particular responsibility to provide a future for their loved ones. For many, they are not living up to their own expectations and even the expectations of their family. Having made the decision to leave their home country, they now have little control over where they can settle more permanently."
Pardo Riikonen says gender stereotyping can lead to men being left out of the equation when it comes to recognising emotional and social needs. Red Cross is providing women and child friendly spaces to ensure both of these groups have a safe place to relax and be heard. The team also provide spaces for men through community meetings, individual sessions and encourage both men and women to facilitate social and education activities for other camp residents.
Although the Red Cross facilitated workshops provide all participants with an outlet, Pardo Riikonen says she is particular proud of the positive impact it has had for Azad: "I've watched Azad's progress as he has lead these workshops. I could see his whole manner shift from one that seemed despondent to energetic and proud of what he has achieved with his students."