January 2, 2020
Climate grief and resilience in a sea of warnings
At the Development and Climate days held in Madrid at the COP 25, the IFRC Climate Centre hosted a session with the participation of the PS Centre. The session was titled: Climate grief and resilience in a sea of warnings: can we move from darkness to illumination?
In a most unconventional session, participants explored the rapidly emerging issue of 'climate grief' (anxiety, depression, and other forms of 'darkness'). A neuroscientist explained how it is natural to experience darkness when confronting such threat – and how gratitude, empathy and altruism can help  avoid paralysis and engage in necessary action. The PS Centre presented ongoing experiences with trauma, and how the most important issue is to ensure psychosocial support including  safety, calming, self-and collective efficacy, connectedness and hope. A live performer offered musical soundscapes while participants engaged in  group work while also co-creating visual art – thus enhancing the openness, depth and texture of the conversations.
Art, games and expressive work with communities creating spaces to share emotions and offer support is essential to keep hoping, develop compassion and to be able to act rather than being sad, afraid, angry or upset. When being able to identify emotions, these are easier to handle and then the next steps of becoming engaged in doing something meaningful, becomes much easier. Much more work is needed to help humanity recognize darkness and pursue illumination.
Post-session mentions
Our 'climate darkness' framing embraced by @TRF_Climate in latest #COP25 article. "Emotional pain is a signal": Let's #AwarenessOfDarkness –> #MotivationForHeroicGenerosity. Join forces w @RCClimate @IFRC_PS_Centre @ClimateKIC @ArshtRock: #innov #PsychoSocialSupport. Bring light https://t.co/LCOAImzPiT

— Pablo Suarez (@PabloSurGames) December 24, 2019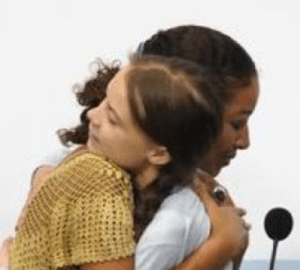 Thompson Reuters Foundation:
Tears flow as politicians fail to dispel 'climate darkness'
Read more here: http://news.trust.org/item/20191224052818-8t2r5/