June 7, 2016
Using Psychosocial Support to Combat Future Ebola Outbreaks
By Mrs, Bendu Padmore, Surveillance supervisor, Liberia National Red Cross Society
When I began working with the Liberian National Red Cross Society (LNRCS) in 2014, I did not know much about psychosocial support. But the outbreak of Ebola Virus Disease caused many psychosocial problems in the families affected by the killer virus. In my work as a contact tracing technical officer, talking to the families of people infected by the disease and survivors was central to my work of trying to trace how the virus was spreading. So I met many people who were very affected both physically and psychologically by the disease, and I needed all the psychosocial skills I had. Unfortunately, in the beginning those skills were limited.
That changed in December 2015 when I attended my first foundation training in community-based psychosocial support. The training gave me the theoretical and practical understanding of psychosocial support that I needed every day when I met with people affected by Ebola.
I completed a full course of the seven modules during the training, where I learned about crisis events, the different types of crisis, the four levels of support on the intervention pyramid, stress and coping, loss and grief, community-based psychosocial support, psychological first aid and supportive communication, children and supporting volunteers and staff. Uuuhhhhh, I can even list them on my fingertips!!  The certificate I received after the training is not only a testimony if this but a great motivation for me.
In May 2016 19 LNRCS staff members and I participated in a community-based psychosocial support training of trainers. This time we concentrated on practicing how to plan and facilitate foundation trainings. A special challenge for us is that more than 80 percent of our volunteers cannot read or write English very well, so we also had to find ways to teach that is suitable in this particular context.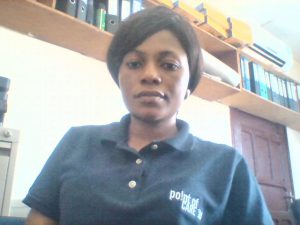 I now have a broad knowledge of psychosocial support and its components and can fully and independently apply it to my work with the LNRCS. Additionally, from the trainings, I also learned how to conduct individual and group talks with persons under distress.
By now, Liberia has transitioned from fighting Ebola to recovery, so my position has also changed. I am now a surveillance supervisor. In Community Events Based surveillance (CEBS) we work with the communities to capture rumors and reports about new possible outbreaks of Ebola to supplement the data from the established health system. My knowledge about psychosocial support has empowered me to integrate key modules of community-based psychosocial support when I train the volunteers in CEBS. So now, psychosocial support will form part of the daily work of the volunteers when conducting surveillance in the communities. Being successful at CEBS requires good attentive listening skills, empathy, the ability to foster trust, and being supportive to families and communities. So to me, psychosocial support skills are essential in fighting future outbreaks of Ebola.