February 21, 2023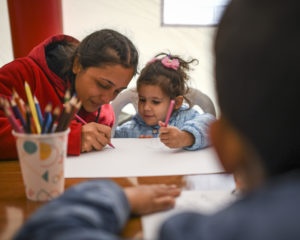 Having access to psycho-educational material in local languages is critical in the first phases of any emergency as people need to be able to understand how they can help themselves, understand their own reactions, as well as how they can support one another in such circumstances.
– Ea Suzanne Akasha, MHPSS Technical Advisor.
In response to the recent earthquakes in Türkiye and Syria, the PS Centre has compiled guides, manuals and training material assisting the Red Cross Red Crescent societies in providing psychosocial support. You can access them in the resource library on the "Earthquake Response" page. The resources are selected based on the relevance in the current situation and on availability in the relevant languages of the region. New resources and translations are being added as they finalize.
In late February 2023, a powerful earthquake with a magnitude of 7.0 struck the border between Türkiye and Syria, causing significant damage and loss of life. The epicenter of the quake was near the city of Afrin in Syria, and its impact was felt across both countries. As of the latest reports, it is estimated that the earthquake has affected over 1.5 million people. Many buildings have collapsed, and rescue teams are working to find and assist survivors. The earthquake has also triggered landslides and disrupted transportation in the area. The full extent of the damage and casualties is still being assessed. The PS Centre is working closely with the respective National Societies and local partners to provide psychosocial support.
If you are interested in translating one or more resources, please contact Communications Officer Jesper Guhle, jeguh@rodekors.dk
Please note the below are only a selection of the available resources. Go to the Earthquake Response page for more.