Mental Health and Psychosocial Support in Mine Action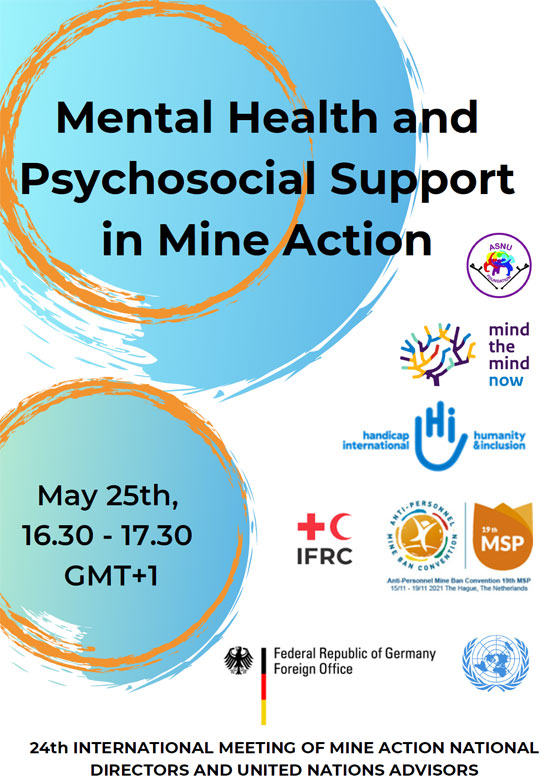 Do you want to know more about Mental Health and Psychosocial Support in Mine Action?
Anti-personnel mines and other explosive ordnances are the cause of mine victims and traumatic injury every single day. Psychological and psychosocial support is essential to ensure social well-being, self-reliance and the successful socioeconomic reintegration of mine victims and survivors. While progress has been made, psychological and psychosocial support is one aspect of Victim Assistance which has not received the attention or resources necessary to meet the needs of mine survivors or affected families and communities. Humanity&Inclusion, ISU, IFRC and the Dutch MFA will discuss the role and urgent need of MHPSS in Mine Action during the 24th edition of the annual International Meeting of Mine Action National Directors and United Nations Advisors.
Objectives:
to emphasize the importance of Mental Health and Psychosocial Support (MHPSS) in victim assistance
to explain what MHPSS is
to highlight importance of MHPSS in the Oslo Action plan
to present how mine action can contribute to facilitating access, and provide services directly or through partners, to MHPSS services
Listen to this side event on 25 May, 16.30-17.30 GMT+1 Sarah Harrison, MHPSS Advisor for the IFRC Reference Centre for Psychosocial Support, will be a speaker at this event.
Click here
to register for this event.