Shelter and Mental Health: doing more and doing better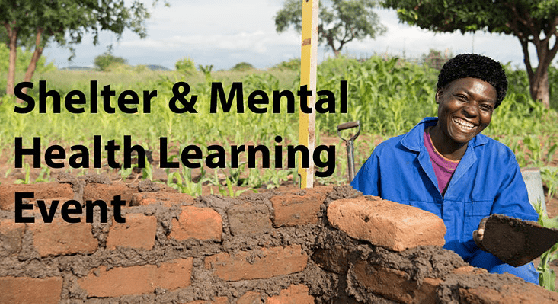 The event will build on the first multi-sectoral Shelter and Health Learning Day held in May 2020. There is a growing awareness of the many connections between shelter and physical and mental health, yet there are still gaps in knowledge, particularly around mental health, which are reflected in practice. This event aims to enhance practitioners' knowledge and understanding of mental health, in line with the Global Mental Health agenda. The Shelter and Mental Health Learning Event will take place over two sessions:
Session 1: Thursday 20th May 2021 14:00-17:00 BST
Session 2: Friday 28th May 2021 10:00-13:00 BST
Please register and add both sessions to your calendar. The Learning Event will be hosted by Oxford Brookes University's Centre for Development and Emergency Practice (CENDEP) and CARE International UK. We will be joined by speakers and discussion moderators, including practitioners from the Norwegian Refugee Council, Catholic Relief Services, the International Organization for Migration, and others from the fields of humanitarian shelter, health and development. Carmen Valle-Trabadelo, Technical Advisor in the Psychosocial Centre and co-chair of the IASC Reference Group on Mental Health and Psychosocial Support in Emergency Settings, will be a panelist for the session on May 20th.
Click here
for more information and registration.