Webinar: PFA – between evidence and practice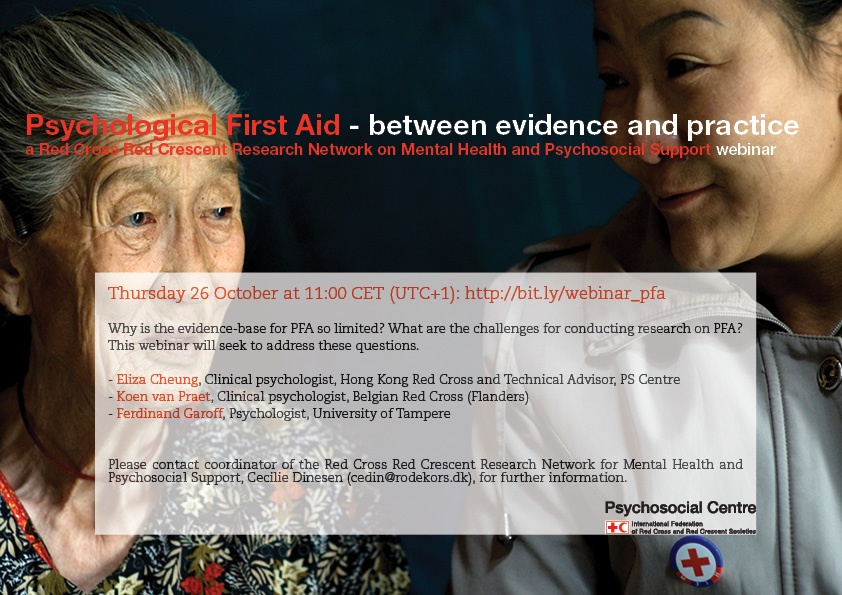 Psychological First Aid
– Between evidence and practice
Presenters: Eliza Cheung, PS Centre, Koen van Praet, Belgian Red Cross and Ferdinand Garoff, University of Tampere

Psychological first aid (PFA) is often delivered to people recovering from the adverse impact of a disasters or traumatic events. The past decade has witnessed a boom in PFA models and manuals. But there are few high-quality studies to support the effectiveness of PFA.
Why is the evidence-base for PFA so limited? What are the challenges for conducting research on PFA?
This webinar seek to address these questions and is presented by
– Eliza Cheung, Clinical psychologist, Hong Kong Red Cross and Technical Advisor, PS Centre
– Koen van Praet, Clinical psychologist, Belgian Red Cross (Flanders)
– Ferdinand Garoff, Psychologist, University of Tampere
The vision of the research network is to provide effective humanitarian action through a strengthened evidence-base in the Red Cross Red Crescent Movement for mental health and psychosocial support for beneficiaries, volunteers and staff.