December 16, 2020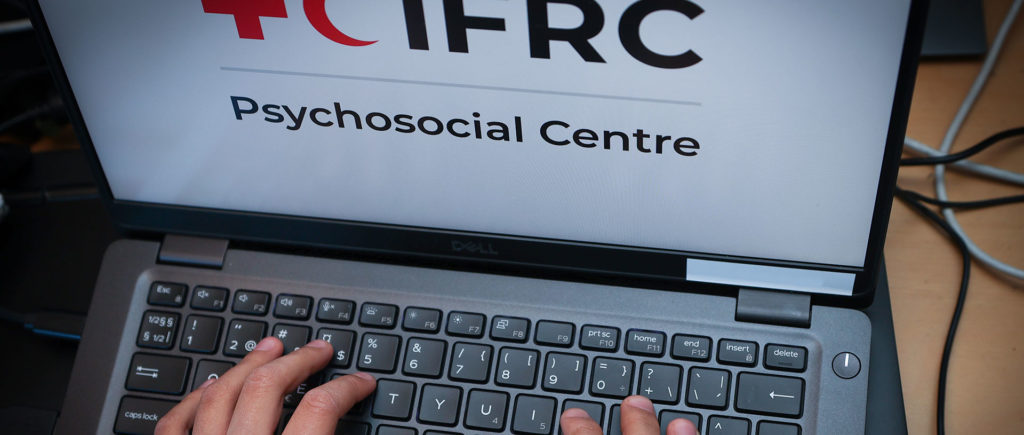 We are looking for a new colleague to support us in designing and conducting remote online 'live' trainings and workshops for 6 months.
The Organization
The IFRC Reference Centre for Psychosocial Support (PS Centre) is a delegated function of the International Federation of Red Cross and Red Crescent Societies, hosted by Danish Red Cross. It aims to improve mental health and psychosocial well-being (MHPSS) through operational assistance, capacity development of National Societies, competence development of staff and volunteers, knowledge generation and knowledge sharing, and communication and advocacy. The PS Centre is a small and lively Centre with an international atmosphere.
While we are ambitious in our wish to support the 194 National Societies of the Red Cross and Red Crescent worldwide and influence the global MHPSS agenda we also pride ourselves in maintaining a warm and supportive team environment. We work in accordance with the Danish Red Cross rules and regulations. And we respect the need for a good work life balance.
Purpose The purpose of the position is mainly to assist the Supervision: The Missing Link project team in developing, designing and conducting remote online workshops and trainings for piloting a newly developed IMS (Integrated Model for Supervision). The responsibility of the digital design assistant will be to create an interactive remote experience as well as assist in the development of tools and resources for the project.
Furthermore, the digital design assistant will support the MHPSS Technical Advisors in conducting the remote online trainings that the PS Centre offer to staff and volunteers from the Red Cross Red Crescent Movement and relevant participants from other humanitarian organizations.
The digital design assistant will be involved in all tasks related to conducting remote online trainings, meetings, webinars etc., as well as longer-term initiatives such as website design and the creation of interactive tools for the project.
Key tasks:
The support to the above workshops and trainings may include:
Experience Design – Design research and creation of an engaging digital training experience journey
Curriculum Design – Design of training curriculum and content creation
Interaction and learning Design – Content creation and adaptation for digital space, coordinating interaction technologies (MURAL, Zoom, Drive, WhatsApp, etc.)
Graphic design – Illustrations and Design of material
Design and technology facilitation – Facilitating the process throughout the workshop, training and coordinating with participants regarding technology or design, and creation/cueing of short tutorials, 'how-to' for participants, and troubleshooting in real time
Administrative support – Organizing the backend structure (managing participants, organizing schedules and files, materials, communication, etc. as required for smooth facilitation of workshop online)
Developing a lively and interactive webpage for the IMS
Developing interactive tools to support the accessibility of the IMS
Other tasks as needed
Qualifications
Essential
A solid understanding of and experience with digital design
Experienced in creating and conducting engaging online remote workshops/trainings/events
Experienced in developing digital content for online remote workshops/trainings/events
Experience with ZOOM
Experience with MURAL or a similar online tool
Advanced online communication skills.
Experience with web design
Experience with visual communication
Experienced MS Office user – Word, Excel, PowerPoint,
Advanced knowledge of Adobe programs: Photoshop, InDesign and Illustrator
Fluency in English written and spoken
A team player mindset
Organized and can work independently
Strong attention to detail
Desired
Experience working in a humanitarian non-government organization
Experience with Mental Health and Psychosocial Support in a humanitarian context
Experience working in a fast-paced environment with tight deadlines, and ever-changing tasks and priorities
Place of employment: Danish Red Cross is the legal employer and duty station will be Copenhagen.
Fulltime position for six months with the possibility of extension.
How to apply:
Deadline for application is 14th January 2021. Interviews will be conducted between 18th and 22nd January 2021.
Applications must be submitted in English and must include both a Motivational Letter and CV.
Please apply via the following link: https://drk.easycruit.com/vacancy/2616239/98569?iso=dk
Start date: As soon as possible – preferably 1st February 2021. The position is a temporary position for 6 months with the possibility of extension.
For further information about the position, please contact Program Manager Pia Tingsted Blum, piblu@rodekors.dk