June 16, 2021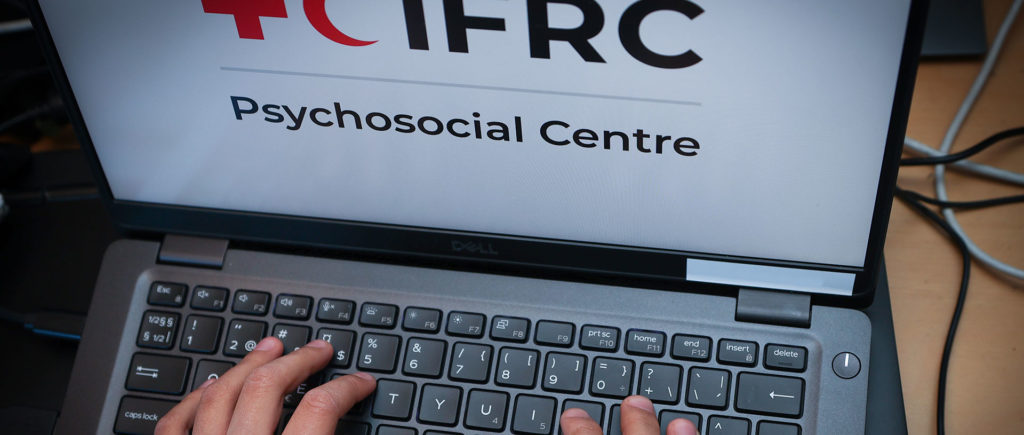 We are looking for a technical advisor with a strong track-record in mental health and psychosocial support (MHPSS) programmes to join our international team in Copenhagen at the International Federation of Red Cross and Red Crescent Societies Reference Centre for Psychosocial Support (IFRC PS Centre).
As our new technical advisor, you will further develop the PS Centre's community mental healthcare portfolio of work. You will set-up an ambitious initiative to equip Red Cross Red Crescent volunteers to support fellow community members with mental health needs. The initiative involves close collaboration with IFRC PS Centre staff, National Societies, and stakeholders in the global MHPSS community.
The position is based in Copenhagen, Denmark but frequent travel is expected.
Responsibilities 
Lead an ambitious process to help the Red Cross Red Crescent network to operationalise community mental health care services.
Develop packages of tools, intervention approaches and training/ capacity-building curriculums to guide National Societies on how they can provide community mental health care services in accordance with their mandate and auxiliary role.
Follow the implementation of community mental health care services within National Societies and accompany/ mentor NS's were applicable.
Take part in the strategic planning processes to drive this portfolio of work forwards within the Red Cross Red Crescent network.
Engage with stakeholders from the global MHPSS and community-based health care networks.
Experience and skills
Relevant educational background in mental health and/or psychology, preferably clinical psychology
Minimum 8 (eight) years of relevant work experience in the field of mental health and psychosocial support and in different contexts such as humanitarian contexts, disaster management, recovery, public healthcare, and social welfare situations. Preferable experience working in, or with, the Red Cross Red Crescent network.
Demonstrated experience in planning and implementing community mental health and psychosocial support programmes.
Deep understanding and knowledge of (scalable) psychological interventions and other mental healthcare activities conducted by community volunteers.
Practical experience in training and/or facilitation of groups, including online facilitation, and strong participatory facilitation skills.
Excellent writing skills and demonstrated skills and experience in developing training curriculums and manuals for Red Cross Red Crescent National Societies.
Knowledge of monitoring and evaluation for community MHPSS programmes and approaches.
Ability to communicate clearly, concisely, and persuasively, in higher level fora, including the ability to advocate for and explain complex mental health and psychosocial issues in non-technical ways.
Contribute to proposal development and writing.
Advanced knowledge of written English is required; knowledge of spoken Arabic, French, Spanish and/ or Danish is an added advantage.
Strong computer skills, including Microsoft Office package.  Experience with other digital tools such as MIRO and MURAL boards and online platforms such as Zoom and MS Teams are an advantage.
Personal Profile
A structured, independent and proactive approach to tasks
Experience in working within multi-cultural and diverse environments.
Prepared to contribute to a positive working environment.
Positive approach to and ability to take on regular travels to support National Societies.
Excellent communication, coordination as well as networking and facilitation skills.
Ability to meet deadlines, multi-task, and work well in a fast-paced environment.
Strong team-player skills and ability to work independently.
Excellent writing skills and ability to communicate precisely and persuasively in writing.
About the PS Centre
The IFRC Reference Centre for Psychosocial Support (IFRC PS Centre) works under the framework of the International Federation of the Red Cross and Red Crescent (IFRC), and supports National Societies in promoting and enabling the mental health and psychosocial well-being of beneficiaries, staff and volunteers. The IFRC PS Centre is hosted by Danish Red Cross.
We have an international team of 18 full time staff with complementary technical, strategic and managerial functions. Our day-to-day work is challenging and busy, but injected with humour and a positive spirit. We achieve most of our goals by working closely together and we value our collaborative working environment highly.  For more information please see Who We Are and What We Do sections of our website.
Employment conditions
Danish Red Cross is the legal employer and the duty station is Copenhagen. The position is a fixed term position for 18 months, with the possibility of extending the contract based on funding. The assignment is to commence 1 September 2021 or as soon as possible thereafter. The position is classified between DKK 43.900 and 48.200 per month incl. pension, according to qualifications and experience, as per the Danish Red Cross collective agreement (AC overenskomst). The position includes frequent travel.
Deadline for application submission: Sunday 4 July 2021, 23:59 CEST.
Please submit your CV and a motivated application in English to Danish Red Cross via the online application system.
Please apply via the following link: https://drk.easycruit.com/vacancy/2728983/98569?iso=dk
Interviews are planned for 7-8 July 2021.
For further information about the position please contact Sarah Harrison: sahar@rodekors.dk