June 25, 2019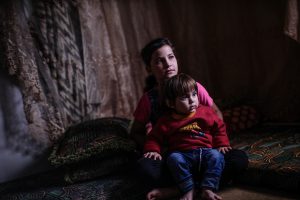 Photo: Jan Grarup
MHPSS on the agenda at European Development Days 2019 in Brussels
18 to 19 June 2019 the thirteenth European Development Days (EDD) forum was held in Brussels, Belgium. The IFRC PS Centre was present to raise awareness about mental health and psychosocial support.
At the EDD in Brussel the IFRC PS Centre co-hosted an event on access to quality mental health and psychosocial support in situations of shock and chronic adversity.
In the debate were representatives from Save the Children Denmark, American University of Beirut, Danish Institute Against Torture and British Red Cross.
Together they discussed what can be done to improve access to quality mental healthcare for those left behind.
Ahlem Cheffi, technical advisor at the IFRC PS Centre, talked about the importance of investing in community-based mental health and psychosocial support through her experience in Yemen where MHPSS resources are limited and needs are massive.
The British Red Cross head of psychosocial, Sarah Davidson, was present to raise awareness on MHPSS.
In an interview with the Red Cross EU she mentions some of the consequences for individuals with un-meet psychosocial needs.
"Psychosocial and mental health difficulties can result in anxiety, low mood, suicidality, self-harm, substance misuse but also the ability to think and to be able to perform functions. (..) All of those interact to negatively impact someone so that they're more isolated, more lonely and more at risk of further difficulties and harm," says Sarah Davidson to the Red Cross EU.
Her Majesty Queen Mathilde of Belgium also highlighted mental health in her opening speech at the EDD. Her Majesty Queen Mathilde has studied speech therapy and psychology and has a keen interest in MHPSS in humanitarian settings.
The main topic of this years EDD is to address inequality by building a world which leaves no one behind. The EDD forum is organized by the European Commission.