November 13, 2017
Mental health and psychosocial needs in situations of conflict or disaster are one of today's "burning humanitarian issues".
"These are the scars and injuries that are not really visible on people," said Margareta Wahlström, President of the Swedish Red Cross and Chair of the Workshop on Addressing Mental Health and Psychosocial Needs. The workshop took place at the 2017 Council of Delegates of the Red Cross Red Crescent Movement just before the council was to vote on whether to pass the resolution.
The session recognized current gaps and overlaps in mental health and psychosocial support as the Movement moves towards a common policy framework to harmonize existing approaches.
Elhadj As Sy, IFRC Secretary General, noted the importance of paying attention to the needs of our own staff "who suffer from the same circumstances affecting the people we are supporting".
Wrapping up the session, Yves Daccord, ICRC Director-General, urged the audience to help bridge the growing gap in mental health and psychosocial support. "It is not an appendix. It is at the core of what we do when we do health. We want to harmonise our approach but also bring it to the States, because the Movement won't be able to do this alone" he said.
"This is a big moment for the Movement, for the people affected by adversity and for the staff and volunteers who put their mental and physical health at risk offering support to those in need", said PS Centre director Nana Wiedemann after the Council of Delegates had passed the resolution on "Mental Health and Psychosocial Support Needs. "We had a very successful workshop where 34 National Societies signed up as ambassadors to support the resolution. We are grateful for the support and the recognition of the importance of strengthening the focus on the invisible scars of disasters and armed conflicts", continued Ms. Wiedemann.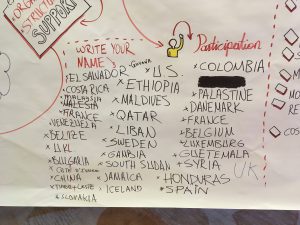 The resolution calls on the Movement to address the mental health and psychosocial needs of affected populations through their prevention, assistance and protection, and to integrate responses to mental health into health portfolios and to emphasize the importance of tackling the stigma surround this urgent issue.
Further, the resolution urges the components of the Movement to increase their efforts to better understand the needs and challenges, and to collect evidence on mental health and psychosocial support interventions in humanitarian responses.
Read the resolution and the background paper