May 6, 2019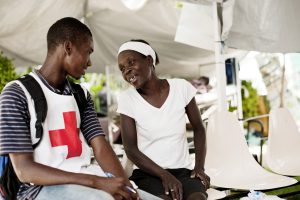 Save the dates:

The PS Centre is pleased to announce our autumn 2019 events.
16 – 19 September 2019 : Psychological First Aid (PFA) taught in French, Tunis, Tunisia.
14 – 17 October 2019       : Psychosocial Support in Emergencies (PSSiE), Copenhagen, Denmark
13 – 16 November 2019  : Psychological First Aid (PFA),Copenhagen, Denmark
19 – 21 November 2019  :  Monotoring and evaluation (M&E) in psychosocial support interventions, Copenhagen, Denmark
Participation in the trainings in Copenhagen is open to all qualified participants, including particpants from external (non-Red Cross Red Crescent) organizations. The final selection of participants will be based on qualifications.
To recover costs associated with organizing the trainings and to continue to be able to offer trainings at the PS Centre, there will be a training fee. The fee covers participation, materials, venue, lunch, coffee breaks and a social dinner. Transportation and accommodation are not covered by the training fee. The fee varies from training to training depending on the length and complexity of the training but is between 600 and 900 Euros.
See more information about application deadlines, requirements and  fees under each training.
In addition to this training schedule, the PS Centre also offers local trainings on a cost recovery basis. To learn more, please contact the PS Centre.
Questions can be sent to psacademy@rodekors.dk
Location, deadline for application and other important information will be announced and posted on our website, Facebook and Twitter.
Subscribe to PS Centres newsletter to keep updated on future trainings, events and new materials.
Photo: Jerome Grimaud, IFRC