July 7, 2015
The Japanese Red Cross psychosocial support team uses puppets to help children talk about the trauma they have experienced following the earthquake.
By Niki Clark, IFRC. Photo Credit: Eliza Cheung/Japanese Red Cross.
In a Red Cross health centre in Melamchi, Nepal, Eliza Cheung leafs through page after page of drawings. They are of all the same subject; a detailed Buddha, one in crayon, one in pen, pencil sketches here and there. The artist is also the same: a 12-year-old boy, orphaned after the recent earthquake by his mother's death and his father's abandonment. Eventually, he was brought to his village's Primary Health Care Centre and, upon realizing his injuries were not strictly physical, he was referred to Eliza, a Red Cross clinical psychologist working in Melamchi.
"I'm not quite sure what it means yet, but [the drawings] really touch me," Cheung said. "This is not a simple picture. I think he is trying to find ways to remember his mother. It is quite a traumatic experience for someone so young to go through."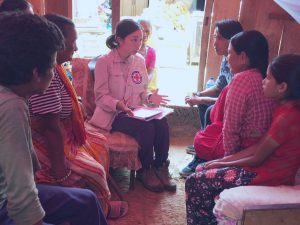 Cheung is part of a health care relief team run by the Japanese Red Cross Society in Nepal. Together, they are treating the whole patient. Her colleagues help support and run the Primary Health Care Centre and specialize in external conditions – broken bones and injuries – while she focuses on unseen wounds with her counterparts from the Nepal Red Cross Society. These issues often play out in young children as behavioral, eating or sleep problems.
Today, the entire team is training local school children on basic health care: how to give basic first aid, how to support classmates that have experienced trauma or death, and how to deal with such loss yourself. The children will then go on to become peer educators, teaching others what they have learned.
Cheung's session focuses on psychological first aid. The children gather in small circles and practice skills such as active listening and creating safe spaces. Other sessions show how to handle broken bones and open wounds.
The work is critical, and there's lot of it. Melamchi was one of the most affected districts and the Japanese Red Cross Society began working out of the Primary Health Care Centre just four days after the first earthquake. Tulaja Dahal, a nurse with the Nepal Red Cross Society, said that as rebuilding has started, many people come in with construction related injuries.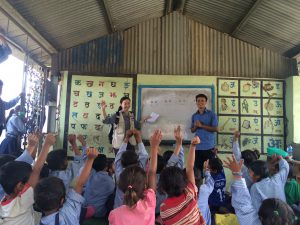 Every day, 200 patients come to the health centre. Many are then referred on to Cheung and her team. While most people experience normal stress reactions after disaster, she said some are dealing with clinical disorders such as Post Traumatic Stress Disorder. They have lost parents, family members, friends.
One of her patients is a 4-year-old boy that lost a third of his weight in less than a month. He had been buried in the rubble before being rescued. His grandmother was concerned. He wouldn't eat, even sweets. After several sessions, the child began to open up to others and started eating again.
"His grandmother tried to tell me 'thank you' in Nepali," Cheung said. "I couldn't understand her words but in her eyes it was clear."
Eliza Cheung, who works for the Hong Kong Red Cross, recently spent time in Liberia, providing mental health support to Red Cross volunteers specializing in the safe burial of people who had died from Ebola.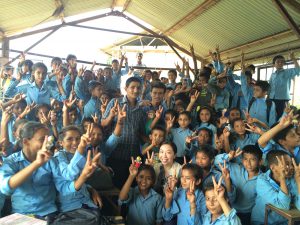 "There are similarities to the situation people faced with Ebola," she said. "Both experiences are incredibly stressful.
"And one thing I have heard both here and there, over and over is, 'I don't believe this is real'. One mother in Melamchi told me, 'One moment I am feeding my child and 30 seconds later, he is dead in my arms.' She goes feels the same trauma every morning when she wakes up."
"Without mental health services," Cheung said. "You can give someone food but you can't give them an appetite. You can give them shelter, but not a home. You can give them materials to rebuild their homes, but not to rebuild their lives. You can give them a blanket, but not sleep."
Because of the efforts of the Japanese and Nepal societies in Melamchi, both the physical and mental injuries left in the wake of the earthquake are slowly starting to heal.