January 2, 2020
In October 2019 the PS Centre facilitated a four days training in mental health and psychosocial support in emergencies.
One of the exercises during the training was to build with LEGO bricks. In the exercise participants build a small structure sitting around a table. After a while everybody leaves their structure on the table moves to another seat. Here they continue building the structure  left by the previous participant. Ea Suzanne Akasha, technical Advisor at the PS Centre, explains why this exercise is important.
"LEGO bricks are used to raise awareness on reactions to change. Participants create a structure that is then changed by others. Once they are back to their own structure they reflect on whether they perceive the change as a gain or a loss. This exercise opens a session on loss, grief and gains."
Meet some of the participants
Participants in the training are all working in or deployed to emergency settings from the Red Cross Red Crescent or other organizations.
One of them is Serena Vanotti, an associate programme Support Officer at UNRWA for Palestine Refugees. She hopes with the training to gather more psychosocial skills which she can use as part of her job in the Occupied Palestinian Territories where there is a huge need of mental health and psychosocial support.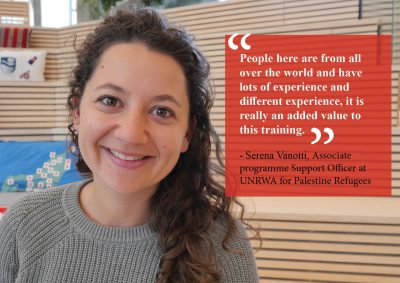 Muhamad Haikel from the Singapore Red Cross was also a participant in the training on psychosocial support in emergencies.
He hopes from this training to be able to train volunteers in mental health and psychosocial support, to prepare them and let them be aware of their own reactions and how they can support others in emergencies.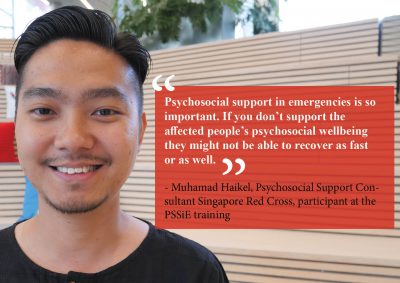 Psychosocial support should be integrated in all emergency actions. With this training participants have more skills and knowledge on how to integrates psychosocial support in emergencies.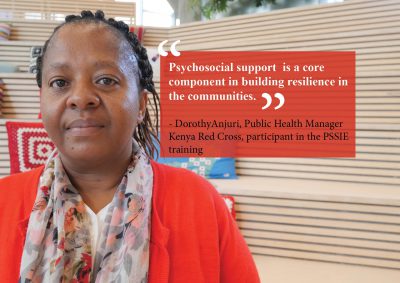 If you want to now more about psychosocial support in emergencies find the PS Centre material here.