June 24, 2019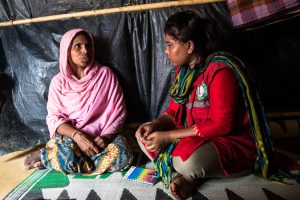 WHO estimates: Almost all people affected by emergencies will experience psychological distress
"Almost all people affected by emergencies will experience psychological distress"
This is one of the key points from new World Health Organization (WHO) estimates published in The Lancet 11 June 2019: New WHO prevalence estimates of mental disorders in conflict settings: a systematic review and meta-analysis
Dr. Mark van Ommeren from WHO Department of Mental Health and Substance Abuse is one of the researchers behind the new WHO etsimates.
In an article on WHO's own website he writes that "(…)there are more people living with mental disorders in areas affected by conflict than we previously thought – many more."
Dr. Mark van Ommeren further highlights that "One person in five is living with some form of mental disorder, from mild depression or anxiety to psychosis. Worse, almost 1 in 10 is living with a moderate or severe mental disorder."
The WHO estimates are based on data from 39 countries and 129 studies, government reports, and conference proceedings.
Key facts from the WHO estimates:
Almost all people affected by emergencies will experience psychological distress, which for most people will improve over time.
Among people who have experienced war or other conflict in the previous 10 years, one in 11 (9%) will have a moderate or severe mental disorder.
One person in five (22%) living in an area affected by conflict is estimated to have depression, anxiety, post-traumatic stress disorder, bipolar disorder or schizophrenia.
Depression tends to be more common among women than men.
Depression and anxiety become more common as people get older.
People with severe mental disorders are especially vulnerable during emergencies and need access to mental health care and other basic needs.
International guidelines recommend services at a number of levels ̶ from basic services to clinical care ̶ and indicate that mental health care needs to be made available immediately for specific, urgent mental health problems as part of the health response.
Despite their tragic nature and adverse effects on mental health, emergencies have shown to be opportunities to build sustainable mental health systems for all people in need.
Source: WHO