Supervision for the Delivery of Mental Health Psychosocial Support in Emergency Humanitarian Settings
Home
/
Resource Library
/
Supervision for the Delivery of Mental Health Psychosocial Support in Emergency Humanitarian Settings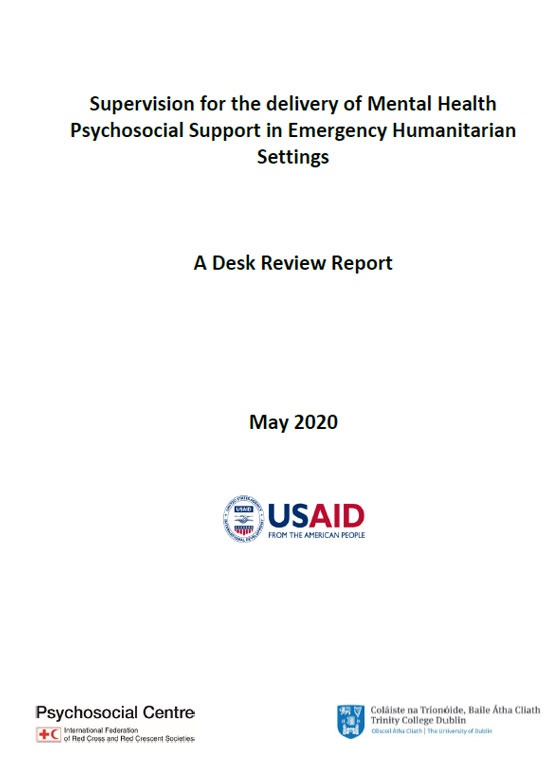 A Desk Review Report: Supervision for the delivery of Mental Health Psychosocial Support in Emergency Humanitarian Settings
Supervision is an essential component of Mental Health and Psychosocial Support (MHPSS) programming. Harm can come to not only beneficiaries, or recipients of MHPSS, but also to staff and volunteers working in emergency settings as a result of unsustainable, poorly structured and/or inadequate MHPSS supervision. Despite its noted importance, there is currently no general guidance on MHPSS supervision in emergency humanitarian settings.
Against this background, this report examines the available evidence on MHPSS supervision by exploring:existing definitions of supervision, different approaches used to supervise, best practices in supervision and current barriers and challenges to conducting supervision. The findings from this report confirm a lack of consensus regarding a definition of MHPSS supervision in humanitarian settings in conjunction with a dearth of evidence relating as to when, how and for whom different models of MHPSS work.
A number of challenges were identified that need to be overcome in order to improve MHPSS supervision including dealing with: a reliance on recruitment of expatriate personnel to serve in the capacity of a supervisor; a lack of available/allocated funding for MHPSS programming; inadequate availability and accessibility to supervision; a lack of cultural competence by the supervisor; language barriers; a lack of human resources and a lack of role clarity for supervisors. Despite these shortcomings, opportunities do exist to generate international consensus and developing guidelines for MHPSS supervision, with concerted efforts playing a key role in the process.