Baltic Sea Emergencies – Folder for Spontaneous Volunteers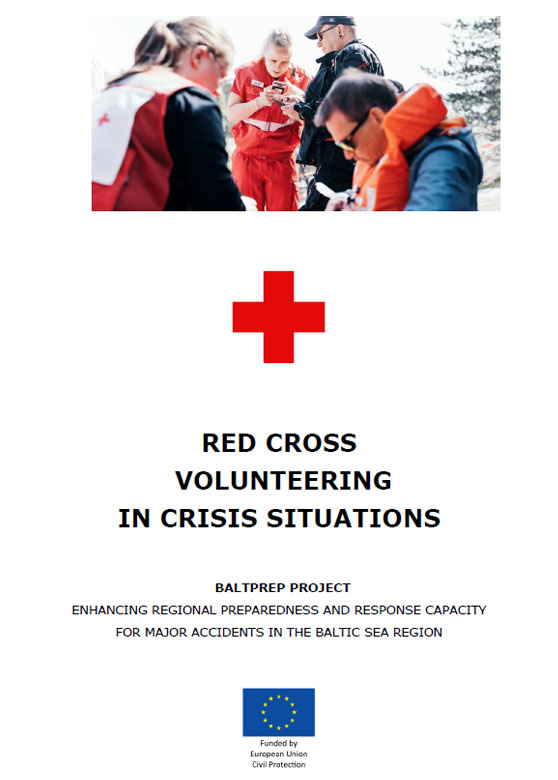 The Baltic Sea region covers a significant area of northern Europe and its EU member countries representing nearly a fifth of the EU population. Over the past few years, issues of preparedness have emerged strongly in the region. The BALTPREP project – Enhancing regional preparedness and response capacity for major accidents in the Baltic Sea region – was implemented during 2019-2020. The project aimed at improving and optimizing quality and interoperability of the Red Cross National Societies in the region, and hence increase the national and regional response capacity for major accidents and severe disruptions. Red Cross National Societies from Finland, Denmark, Germany, Poland, Lithuania, Latvia, and Estonia were partners in the EU supported project, with Red Cross Societies in Sweden and Russia being involved in the regional cooperation alongside the EU project partners.
The BALTPREP project was implemented through 5 work packages, where work package 2 focused on building a sustainable regional framework for activities as regards psychosocial support in emergencies. Danish Red Cross and the IFRC Reference Centre for Psychosocial Support was leading the implementation of the work package 2. As a result of the work package 2 the Minimum Standards in Psychosocial Support Trainings in the Baltic Sea Red Cross Societies have been developed. The minimum standards build the framework for mental health and psychosocial support in emergencies in region by compiling a standard training approach and two sets of training curricula. The minimum standard hereby seeks to facilitate capacity development of the National Societies through increasing MHPSS competencies and skills among staff and volunteers.