Training for Implementers of Child Friendly Spaces in Humanitarian Settings
Home
/
Resource Library
/
Training for Implementers of Child Friendly Spaces in Humanitarian Settings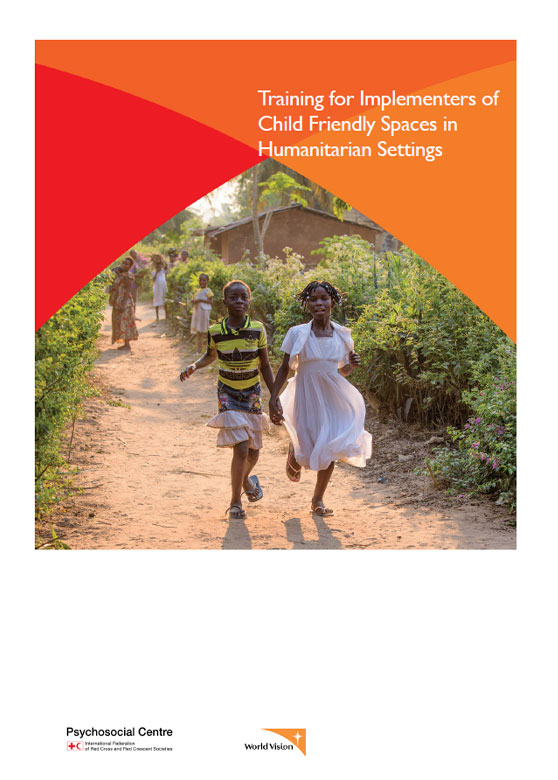 This training is designed for trainers who have a working knowledge of child friendly spaces and are familiar with facilitating psychosocial trainings. They should have good communication skills and feel comfortable with the topics to be covered in the training. It is important that they reflect values of inclusion and non-discrimination in the training process.
Participants of this training will be implementers of child friendly spaces in humanitarian settings.
The training aims:
to strengthen the mainstreaming of child protection minimum standards and mechanisms in the management and implementation of quality CFS
to strengthen capacity in programming activities in CFS, promoting the psychosocial well-being of children
 to promote best practice that is gender, age and ability-appropriate in the diverse settings in which CFS are located
 to enable participants to experience a mutual learning experience in a safe environment.
It is important as trainers to enable participants to keep their discussions as concrete and practical as possible and encourage them to talk about the real challenges they face in their work. This training is an opportunity for them to share challenges and difficulties together and to find possible solutions. Trainers should familiarise themselves with all three resources in the CFS Toolkit. This includes reading the Operational Guidance for Child Friendly Spaces in Humanitarian Settings and the Activity Catalogue for Child Friendly Spaces in Humanitarian Settings, as well as this Training for Implementers of Child Friendly Spaces in Humanitarian Settings.