Monitoring and evaluation for mental health and psychosocial support programmes: Facilitator notes
Home
/
Resource Library
/
Monitoring and evaluation for mental health and psychosocial support programmes: Facilitator notes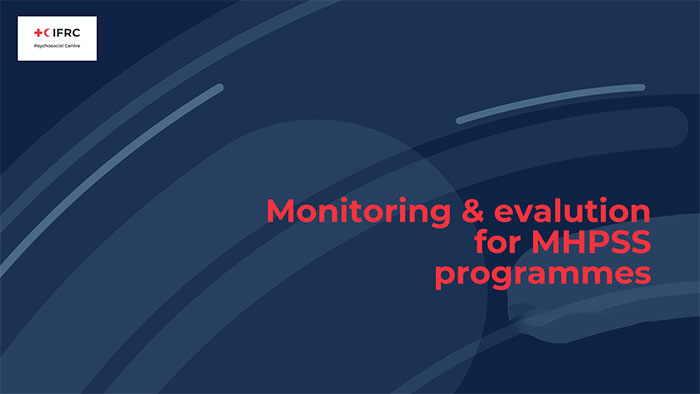 Monitoring and evaluation (M&E) systems are essential in achieving well-designed programmes that are appropriate to the people and context, and that are effective and efficient. Without these systems in place, resources may be wasted on programmes that are ineffective or inappropriate, and interventions run the risk of doing more harm than good.
The PS Centre has recently developed the IFRC Monitoring and Evaluation Framework for psychosocial support interventions to promote best practice in M&E throughout the Movement. The framework aims to support NSs in designing and implementing M&E systems for psychosocial programmes; to help in programme planning and development of psychosocial support strategies; and to streamline global reporting of progress in psychosocial programmes, reflecting the priorities of IFRC Strategy 2020.
The PS Centre has also developed this training manual, Monitoring and evaluation for psychosocial support intervention – Training module, which features all the elements of the framework in a three-day training workshop. The training aims to build the capacity of staff and volunteers in setting up and implementing systematic monitoring and evaluation systems in relation to psychosocial support interventions. M&E principles, methods and tools are presented in a series of interactive training sessions, which enable participants to apply learning to their own work context.